Patents/Licenses/Registrations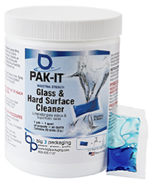 PAK-IT® is protected by US Patents 6037319 and 6136776. The patents are owned by Big 3 Packaging LLC and Big 3 Packaging LLC takes the position that it will defend all of its intellectual property and enforce all of the patentable rights afforded to Big 3 Packaging LLC and those lawful licensees of the patents under US patent law.
Big 3 Packaging LLC does offer licensing opportunities for this patented technology to interested and qualified parties. All enquiries should be made to info@big3packaging.com
PAK-IT® offers an EPA Registered Disinfectant EPA Reg No. 1839-176-70459 EPA Est No. 34282-PA-1  for more information on PAK-IT® Disinfectants go to http://www.pakit.com/products/?k=Disinfectant. 
PAK-IT® Disinfectant Cleaner is an EPA Registered Disinfectant in all 50 states in the USA.
Private Label Opportunities are available to manufacturers and distributors based on their territory, market sector and annual forecasted volumes. All enquiries should be made to info@big3packaging.com